27/12/2016
New Year's Lucky Food
Lentils, grapes, tangerines, rice, pomegranates, chard and chillies: an omen of prosperity for the New Year
Most superstitions have a foundation of fact. A number of foods, which are believed to bring good luck, are in fact healthy and good for the body. The association between healthy food and prosperity is quite obvious. In addition to the all-time classics, such as lentils, grapes and tangerines, there are some less common and more exotic lucky charms, namely rice, pomegranates, chard and chilli peppers, which can add some zest to the traditional New Year's Eve dinner.
The all-time classics: lentils, grapes and tangerines.
Traditionally, prosperity will be directly proportional to the amount you eat: one lentil will be worth one coin, whereas, one grape will bring one month's worth of luck. The round shape of tangerines may be seen as a symbol of eternity. These popular beliefs are enchanting as much as they are untrustworthy. What can be trusted is that lentils, grapes and tangerines are extremely healthy.
Like other legumes, lentils are rich in proteins and carbohydrates, which make them extraordinarily nutritious. They are highly recommended in hypolipidemic diets, because of their low fat content (2%-4%). Furthermore, lentils are a good source for fibre, calcium, magnesium, iron, potassium and vitamins A, B and C. They also contain a considerable amount of folic acid, which is an excellent detoxifying, purifying, diuretic, antioxidant and anti-inflammatory agent. Last but not least, lentils help cut down cholesterol and improve blood circulation.
Like other citrus fruits, tangerines are reach in vitamin C. The limonene in the peel is a powerful antioxidant that counteracts skin ageing. Tangerines are also rich in fibre and carotene, and they contain a significant amount of vitamins A and from group B, as well as iron, magnesium and folic acid.
Tip: use lentils, grapes and tangerine for table-holders or Christmas tree decorations. Your tree will glisten with good luck.
"Exotic" lucky charms: rice, chard, pomegranate and chilli pepper.
Rice grains are associated to wealth. The green leaves of chard are reminiscent of the colour of banknotes. As for pomegranate, according to Greek mythology, it was sacred to Hera and Aphrodite and to this day it is considered a symbol of fertility and prosperity, due to its numerous, bright red grains. Red-hot chilli peppers can chase bad luck away thanks to its spiciness.
Leaving all the fascinating fiction aside, we can rejoice In the fact these ingredients are all good for our body. Rice is a refreshing antioxidant with a bland astringent action. It is very easy to digest, thanks to a considerable amount of vitamin B. Chard is practically fat-free, but very reach in water, vitamins A, K and C, beta-carotene, magnesium, iron and potassium. It has refreshing, laxative, emollient and anti-anaemic properties. With a calorie count of only 25 kcal per 100g, chard is ideal when on a diet. Pomegranate is filled with vitamins A and B. Its juice appears to be instrumental in improving blood circulation and preventing cardiovascular diseases, heart attacks and strokes. Lastly, chilli peppers contain a substantial amount of capsaicin, flavonoids, essential oils, carotenoids, cellulose, calcium and iron. It is the vegetable with the highest content of vitamin C – up to 340mg per 100g – and also contains vitamins A, K and B.
There are a few things you can do to maximise your luck: use chard leaves and flowers and rice for table decorations; prepare a cocktail with pomegranate and spumante wine; create jewels with chillies.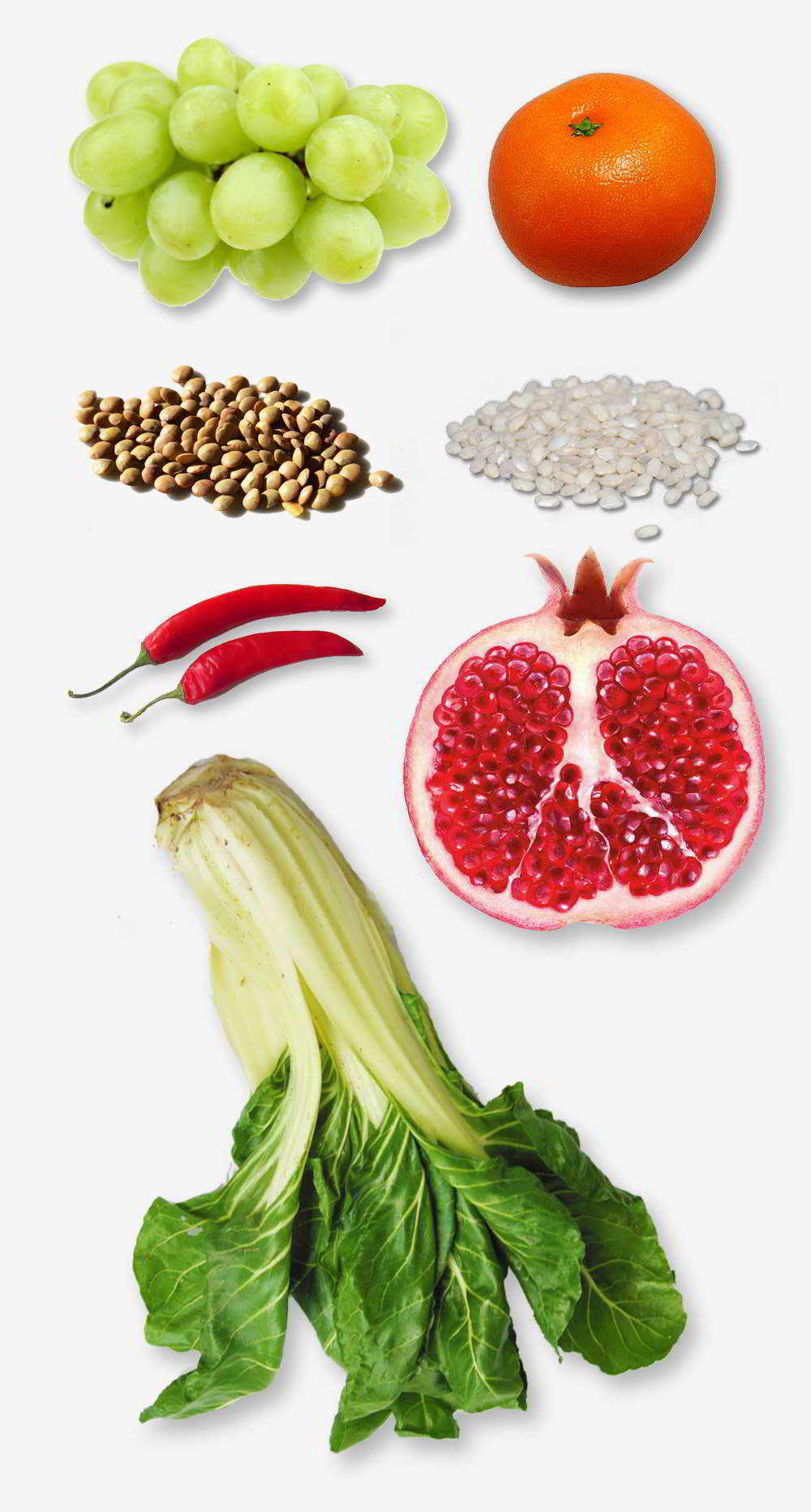 Artecibo editorial board
Content edited by staff